Everyday life in the consulting teams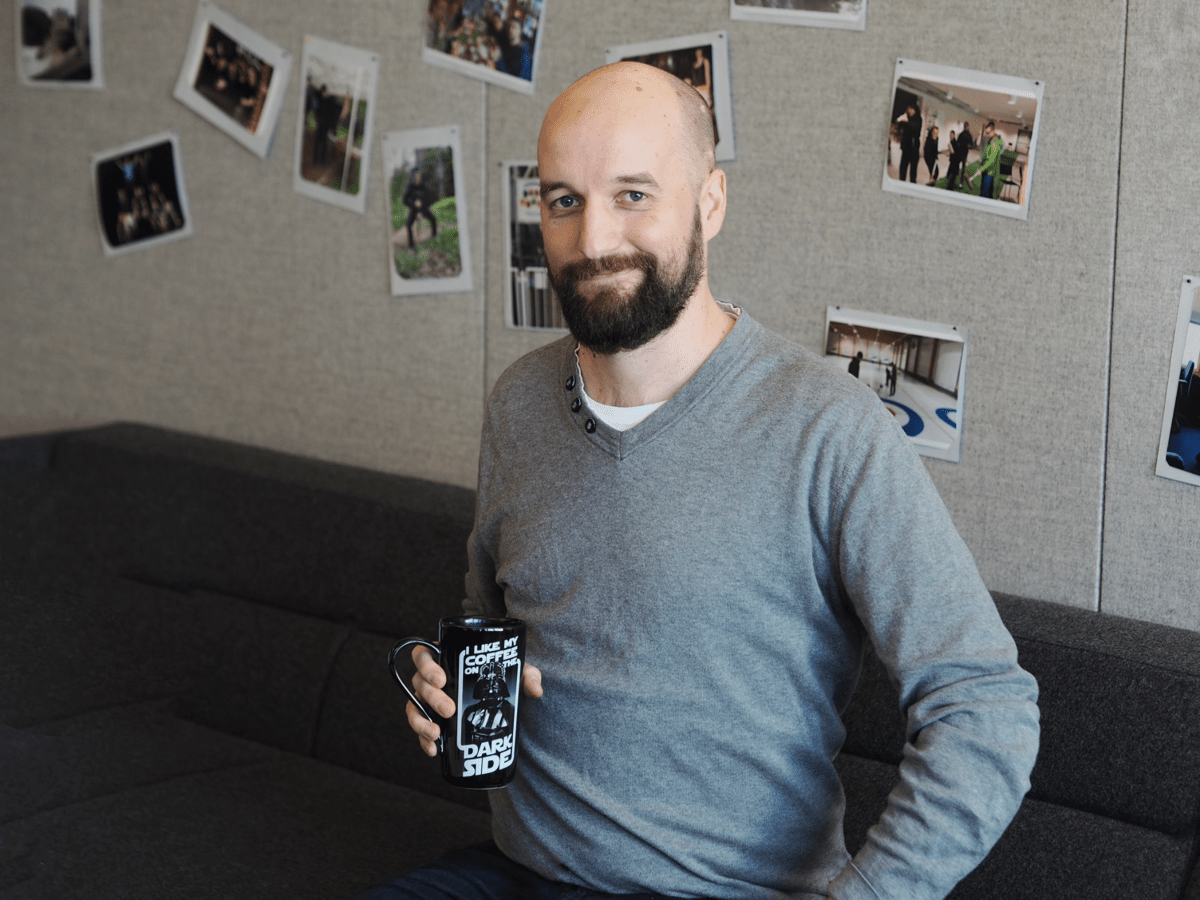 The integration experts working at Frends are divided into consultancy teams. We interviewed Integration Developer Jura Laakkonen from the longest-standing Energy team to shed light on everyday life and the reasons for the good vibes and job satisfaction.
"I think the atmosphere at our workplace is unique, and it has remained the same throughout my career. There is an incredible spirit of friendship and camaraderie here," says Jura, who has worked at the company for more than 12 years.
Full-stack teams are built around client accounts
The consultancy teams in the integration unit are built around client accounts and the projects that come with them. The Energy team is, as its name suggests, specialised in energy clients, but otherwise, the teams have a wide range of clients.
Sometimes projects are carried out across team boundaries, but often the skills required for a project are found within the same team, as each team employs a full stack of Integration Architects, Integration Developers, and Service Managers.
The majority of the client communication for the projects is handled by the Service Managers. Service Managers act as a link between developers and clients. The Service Manager is the primary contact for the client. They receive the work from the client, ticket it and resource the personnel on a weekly basis on who will do what and how. Service Managers also keep track of what tasks are coming up in the future.
Projects are very varied, which makes it difficult to name a typical project. However, Jura Laakkonen, Lead Developer of the Energy team, gives a few examples:
"Many projects involve a client changing an internal system, such as customer relationship management. In such cases, new integrations are needed to make the same data fit the requirements of the new system."
"Another good example is when a client wants to publish some data from their internal systems to partners, such as measurement data. In this case, we implement in Frends an API to call – the integration takes care of getting the right data in the right format through the interface to the partner."
Integrations often involve dealing with different areas of the network and designing how these different areas work together nicely without security issues and how to get the data moving from one place to another in the right format every time.
"The roles of developers in projects vary. For larger projects, we always choose one Project Manager who manages the whole project, holds the reins of the project, and receives work directly from the client alongside the Service Manager," says Jura Laakkonen, who works as the Lead Developer in the Energy team.
The developers go through their work tasks in a weekly team meeting. From there, they start the week, and each person enters their current status in the Jira work management system.
"No one is standing behind my back telling me what to do next"
The teams have a very low hierarchy, and the culture is self-directed.
In practice, this means, for example, that in a Service Manager's job, no one is always standing behind you telling you what to do next. For developers, the work comes from the Service Managers, but they are allowed to direct their own work. And as long as the client is happy, everyone is happy.
A certain curiosity and ability to manage their own work is also expected from the developers. Everyone is also free to develop both their own and their unit's activities. You can influence your own career development, and it's not imposed from above: if you feel a burning need to take responsibility for a particular area, you can steer your career in that direction.
Challenging jobs require curiosity and the ability to learn
One of the main reasons for well-being at work is a professionally interesting job.
"In integration, interfaces and technologies are constantly evolving and changing, so you can explore and learn new things all the time," says Jura, adding, "Here you can see from a very interesting angle how our own integration system is evolving."
Much of the work is done on the Frends integration platform. It's the platform on which the majority of our clients' projects are implemented. Frends has a web interface that allows you to orchestrate different processes and to plan and implement how information moves from one place to another.
"There are many advantages to using our own product: we have an in-house product development team that is very responsive and listens to our wishes. This allows us to develop the tool quickly, and if there are any problems, we can get help immediately."
So, what kind of person could work with integrations?
It's hard to pinpoint one ideal person, as the job suits many different personalities. A sense of humour is always a good thing, and here you shouldn't take yourself too seriously. A technical background is an advantage, but Jura says you don't need to be a hardcore coder, as Frends is a low-code platform.
"In integrations, the ability to see the big picture is more useful," says Jura.
You don't need to be a complete integration expert, but you should definitely be willing to learn and ask for help when needed.