Integrators know how the society works below the surface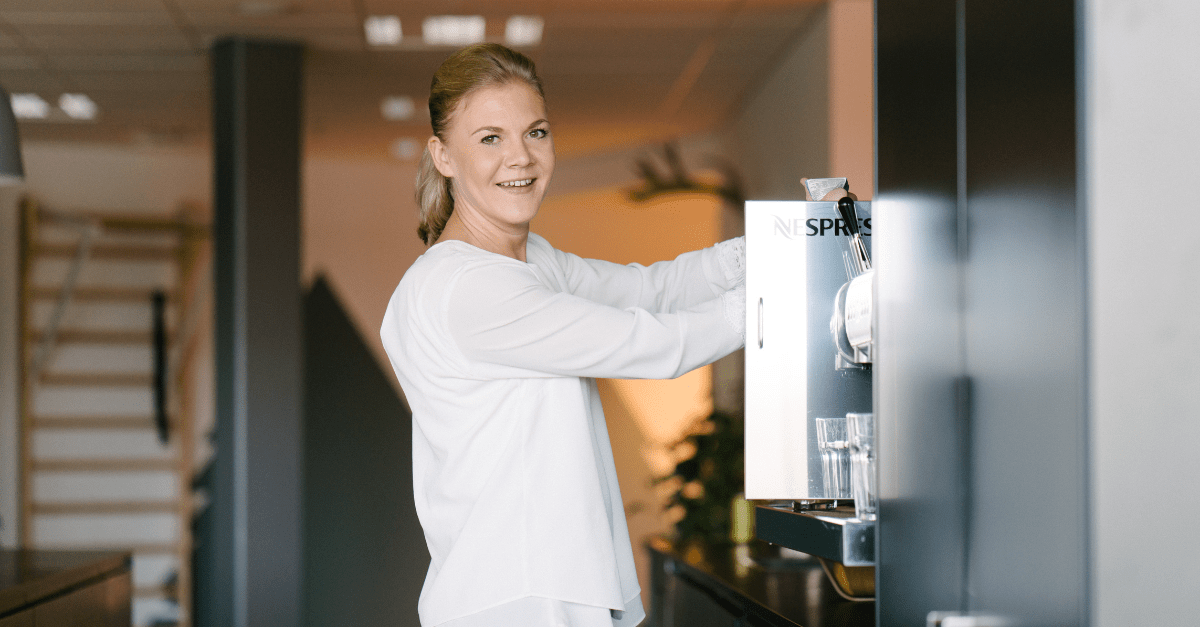 The rapidly growing integration industry offers career opportunities for software developers, business analysts, integration architects, service managers, and project managers, just to name a few. Elina Salo, Head of Talent Acquisition at Frends, shares why working with integrations is meaningful.
When a supermarket cashier reads the barcode of a product, the display shows the product price. At the same time, there are numerous automatic processes taking place in the back-end systems, due to which the data will update the inventory, order backlogs, and sales forecasts.
As we switch on the coffee maker or the lights in the morning, we only see a fraction of what happens in this process. Dozens of integrations ensure that we even have electricity in our homes and that the invoice corresponds to our actual usage.
So describes Elina Salo, Head of Talent Acquisition at Frends, how integrations form the basis for our everyday lives.
"We benefit from thousands of integrations daily even without acknowledging their existence. Yet, at the same time, a group of people is working to develop them. People that share a desire to comprehend the world below the surface and make everyday lives easier."
The integration industry requires more experts constantly
Data and integrations are growing, which creates a progressive demand for centralized solutions. Frends eiPaaS integration platform stands out with its visuality, pricing, and usability.
Due to the rapid growth of Frends, there is a constant need for recruitment in the company.
Salo describes that many potential experts might find the integration world stranger or harder to comprehend than, for example, more traditional mobile or web development. Previous experience in integrations is not, however, mandatory.
"Often experts end up at Frends with a technical degree. Especially many integration developers have development work experience, but it does not have to be related to integrations."
What matters most, according to Salo, is the interest in different industries at the process level and understanding how systems interfere with each other.
"Integrators are versatile and skilled professionals who can comprehend how data moves across systems. They help organizations streamline their processes and optimize various causations and turn them into a more profitable form", Salo describes.
The significance of the work arises from helping people – either employees of a customer organization or end-users. Regarding Salo, the integration work provides versatile challenges and constant problem-solving, which require a curious nature and solid deductive skills.
Not all integrators work directly with customers. Still, advanced social skills help present the right questions and provide the best possible solutions for customers.
"There is a lot of independent work related to integration work. However, excellent communication skills support the cooperation between colleagues and customers."
Frends have customers, for example, in the public, media, retail, manufacturing, and energy sector. Each industry and business model adds unique features to the design and implementation of integration architecture. Common nominators are often enhanced transparency and better control of data and streamlining of processes.
Salo encourages applying for open positions in the integration business, which creates enormous opportunities for experts to affect the well-functioning of the society and different organizations.
"Integrations are comparable to interaction. Without a common language, the interpersonal dialogue and cooperation can't be successful."
Listen more to our podcast Integraattorit - nuo arjen näkymättömät sankarit (in Finnish)