Frends values & culture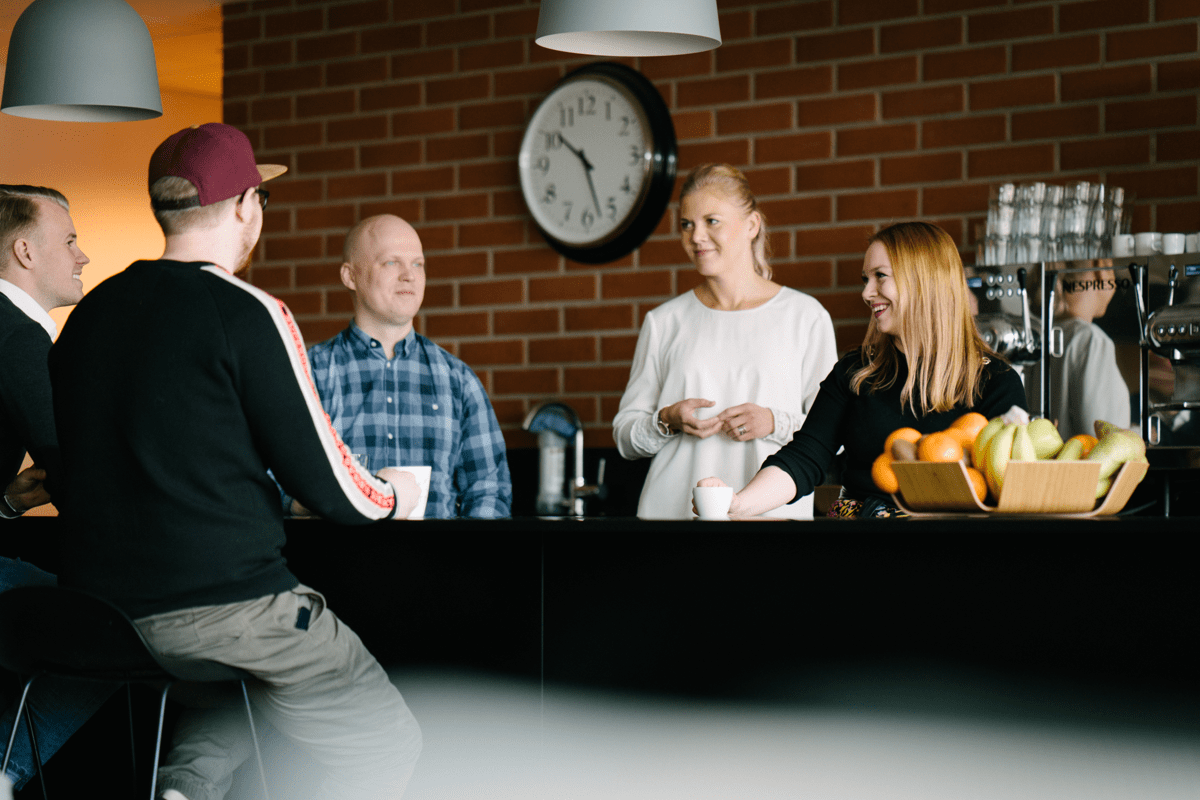 What is Frendszone like?

Strong team spirit and trust, freedom, and flexibility are the cornerstones of our culture. Top workmates coupled with challenging and versatile projects with a powerful platform Frends iPaaS which enables digitalization and process automation – this is Frendszone.
Results, responsibility, simplicity and joy
Our values are results, responsibility, simplicity and joy.
We create winning results. We aim for individual responsibility within team members. We keep it simple. We bring joy which means that everyone is allowed to be who they are. Joy increases openness and creativity. That is why we invest as much as into people as serving our customers.
Results
We create winning results. After all, the most important thing is we deliver our customers what they need: genuinely valuable services and solutions.
Responsibility
We aim for individual responsibility within team members. This principle enables us to care for the details while delivering projects in schedule – many times even exceeding our customer expectations.
Simplicity
We keep it simple. By sharing responsibility, flexibility, and creativity, we can make functional solutions.

Joy
For us, joy means that everyone is allowed to be who they are. Joy increases openness and creativity which is why we invest in our workers with the same passion as we serve our customers.
What do we promise to our employees?
First, we work with meaningful integrations. Integrations run the world. We make sure that the data flow and people can live care-free life every day.
Secondly, we have our own integration platform Frends iPaaS. Frends solves the digitalization challenges of both global and smaller customers and various industries in the private and public sectors.
There are many advantages when using own product: the product development team is close and responsive. As a result, development is fast, and you get help quickly with any challenges. With us, you also get to see the development of the modern enterprise iPaaS platform from various angles.
The most important thing for us is our people - frendzies. The employees are at the center of Frendszone. We want to develop our people and cherish our genuinely good atmosphere. We work in own teams which increases the team spirit. We trust our experts - responsibility, freedom and flexibility are the cornerstones of our culture.
We have wide employee benefits and we want to also power our people. This is for example how our sports and culture club works. Anyone who works with us can organize almost anything, as long as they can get a dozen of their colleagues excited about it.
On top of this all, we are a stable, safe, reliable, modern, growing and internationalizing company.
Growth, of course, brings new customers both in the local and international market, leading us to interesting and meaningful new projects where one can develop their skills and help our clients create modern digital solutions. With us, you get to evolve and develop further.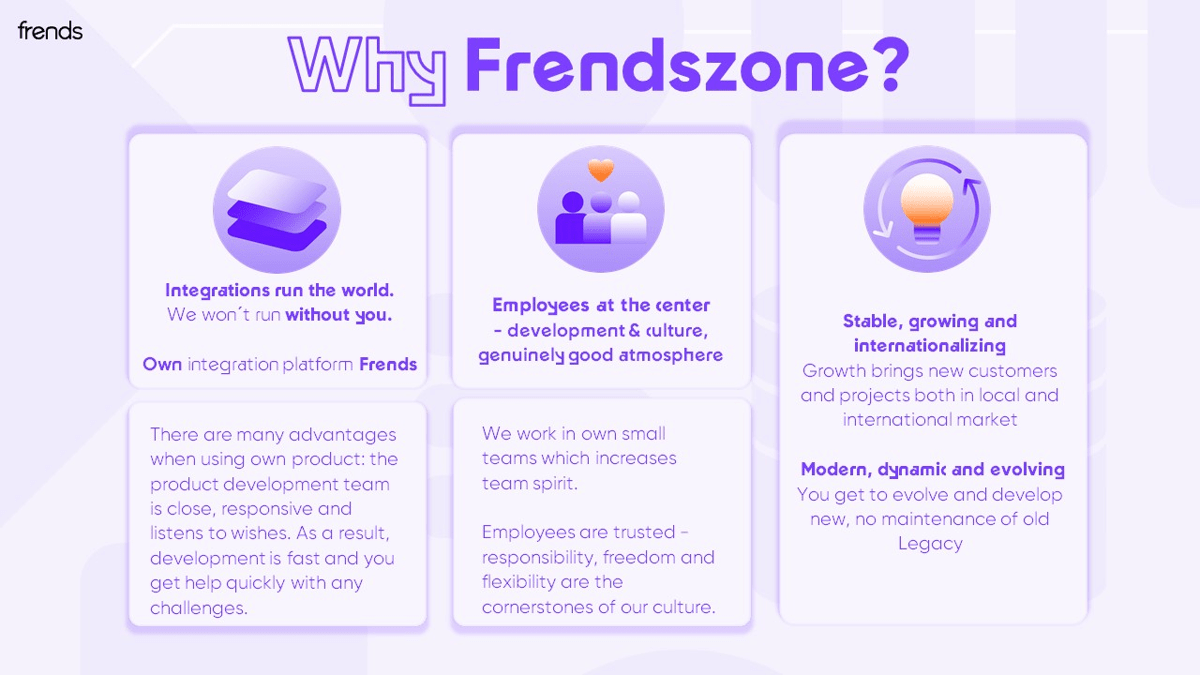 What does the frendzies have to say about us?
The most valued things in our employee satisfaction surveys are

fun and humorous colleagues,
the intense feeling of togetherness within a non-changing team, and
work flexibility.
Work itself is challenging in just the right way, and the tasks and technologies vary enough but not too much. Our employees value the meaningfulness of work: developers' handcrafted APIs enable fancy mobile apps, and hyperautomation obliterates monotonous, repetitive tasks from someone's workday.
"The best part is that we have an outstanding team spirit, and the hierarchy is low for real. This makes work smooth, and you can influence your work."
"Skilled co–workers and a relaxed, sparring team around."
"A free atmosphere to ask questions and be yourself."
"Work is done in small teams, which increases the team spirit."
"On the integration side, interfaces and technologies are constantly evolving and changing, which means that you can constantly explore and learn new things and deepen your skills."
"REST API hype has been going around a lot, but with us, you truly get to develop Open APIs to customer systems."
"While Frends is geared towards quick and easy development, sometimes custom features can be used to make custom C# code."
"Employees are trusted - here you get responsibility and freedom to express yourself."
"Flexible working hours & location."

"Flexibility in different life situations."

"Really a family–friendly workplace."
Employee survey
We examine the satisfaction level through a series of questions in our annual employee survey. Our latest employee survey revealed (on a scale of 1 to 4):

I like working at my business unit – 3,7
My team has good team spirit – 3,6
Members in my team have an opportunity to take part and take action – 3,6
I'm content with my supervisor – 3,7
My supervisor trusts his/her team members – 3,8
I can freely ask questions and tell my opinions to my supervisor, even if I don't agree with him/her – 3,8
I feel that it's easy to talk with my supervisor even about more problematic topics 3,7
Employees are treated equally in my unit – 3,5
I believe we can produce excellent services and products for our clients – 3,7
I get to decide about my work-related subjects freely and independently enough – 3,5
How does Frendszone sound to you? Check our open positions and contact us!
Elina Salo